ALK Technologies has just released the latest version of their GPS navigation software, CoPilot Live v8.
The software, which features both a driving and pedestrian mode, has a number of improvements.
Clearer guidance at junctions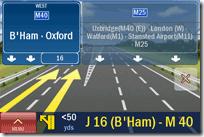 Now its easier than ever to see where to go at complex intersections. v8's new Lane Indicator Display arrows show you exactly which lane you need to be in, while CoPilot ClearTurnâ"¢ provides a more realistic display of motorway exits and junctions. Elsewhere, Real Signpost Information means that what you see on the screen matches what you see on the road.

Guidance in Tunnels
CoPilot Live v8 continues to provide directions and update your estimated time of arrival, even when you lose a GPS signal in a tunnel. Great for when you need to take an exit in an underpass or immediately after leaving a tunnel.
Read more after the break.
Turn after Turn Indicator
CoPilot navigation has always provided clear directions on the approach to a turn. Now in v8 CoPilot shows the next turn and the one after that too – making driving a little more predictable.
Speed Limit Alerts
Sometimes it's not always obvious what the speed limit is on a road, particularly when travelling abroad. Now CoPilot can help, with on-screen and audible warnings if you exceed the local limit.
3D Landmarks
Find the way more easily in selected major cities with photo-realistic 3D images of the main landmarks. Its an ideal way to get your bearings whether travelling in-car or on foot.
Brand Name POIs
CoPilot Live not only guides you to your destination, but also knows all the useful places you might need along the way. New in v8 is the ability find and navigate to the nearest familiar brand. Logos for over 80 leading-brands including hotels chains, petrol stations and fast food restaurants are displayed on the navigation map and in POI search results.
All new touch screen UI
Who says that dedicated navigation devices are the simplest! CoPilot Live v8's new menus and user interface have been designed to take advantage of the latest smartphone touchscreen technology. With 100% finger touch operation, flickable menus and fluid sliding maps there's certainly no need for a stylus.
v8's redesigned menu structure make it easy to access the most common tasks, while a new on-screen quick launch button allows instant access to the main controls, such as portrait/landscape screen switching, mode of travel and driving view.
Text to Speech
CoPilot Live v8 includes improved pre-recorded voices at standard, providing clear and accurate spoken directions at each turn. Text to Speech voice instructions are optionally available in certain regions, at extra cost, which provide detailed spoken directions, including town and street names.
Voice Recognition 
v8 can also provide you with hands free operation though optional CoPilot Commandâ"¢ voice recognition, at additional cost. You can enter a destination, change the view and operate many other controls hands-free. It's time to talk back to your navigation system!
Full-featured walking mode
A phone with CoPilot Live v8 is much more than just an in-car navigation system. It can provide turn-by-turn directions to find the way around a town or city on foot too, with pedestrian-specific routing, map display and directions along footpaths. An on-screen compass and a useful straight line indicator make sure that you'll always be heading in the right direction.
Photo Navigation
Navigate directly to a photograph! You can browse your phone's memory for a geo-tagged photo and navigate to that location, all from within CoPilot.
Live Traffic information
CoPilot Live v8's optional Live traffic service, at additional cost, offers high quality, constantly updated traffic information about your route via your phone's mobile Internet connection.
Available across Europe and the USA, it scans your route for problems and can automatically calculate a alternative route if any are detected.
Live Search
CoPilot Live can use Internet search to find your favourite nearby brand, a local business, a nearby bistro or … anything!
Whatever you are looking for, just type it in and the integral connection to local Internet search will list matching results close by. Select the one you want, and CoPilot will guide you straight there.
Available in UK, USA, France, Spain, Italy only
Fuel Prices
Running low on fuel? CoPilot Live will even guide you to the closest fuel station – or the cheapest – in the area.
Weather
CoPilot Live will tell you the weather conditions on your route, at your destination or in your current location. You can also display up-to-date five day forecasts at the touch of a button.
A data connection is required on your device for this feature
LiveLinkâ"¢ Location sharing
CoPilot Live can use the mobile internet to help you to connect to your colleagues, clients, friends and family when you're on the move. You can even help your friends find you! New in v8 is CoPilot LiveLinkâ"¢ a free service which lets you see the location of friends who also use CoPilot in real-time from your own CoPilot screen. You can also send an email invite to anyone allowing them to share your location live on an internet map, send you messages and even new stops, straight to your CoPilot.
CoPilot OnDemandâ"¢
CoPilot Live v8 is designed to make it easier to get the maps you need for navigation when on the move. CoPilot OnDemand helps you avoid becoming stranded without navigation by allowing you to buy maps online and download them directly to your phone via the mobile internet, WiFi or CoPilot Central desktop software. As with all of CoPilot's maps, once they are on your phone you can use them for ever – there's certainly no need to download maps every time you want to go somewhere.
The Latest Maps
CoPilot Live v8 includes the most accurate maps and Points of Interest available from the World's leading map suppliers. There's updated coverage of Western Europe, USA, Eastern Europe, Australia and South Africa.
CoPilot Central 2.0
The free-to-download PC software companion for CoPilot Live v8 which is designed to help you manage and maintain your CoPilot Live navigation software. Central 2.0 is the easiest way to check for software updates, buy additional maps and premium content like traffic, text to speech or 3D landmarks.
You can also use CoPilot Central 2.0 to import custom Points of Interest databases and import/export trips in industry standard KML file format for use with other applications such as Google Earth.
CoPilot Live is available with country-specific maps for £25.99, or full European maps for £59.99
Read more at ALK.eu here.