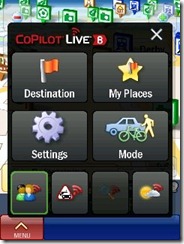 ALK Technologies has announced an update for CoPilot Live 8, found in many Windows Mobile smartphones including pre-installed on the HTC HD2, which brings many welcome improves.
The update features:
Improved timing of turn instructions. Customers can now choose exactly when they would prefer to receive spoken turn instructions, based on distance or time from the turn.
Ability to download free safety camera database updates direct to CoPilot Live via mobile web or WiFi
Ability to switch-off the 'Welcome to CoPilot Live' message played at start-up
Support for Premium Live Services, including Live Traffic, fuel prices and Local Search (Premium Live Services are available for £19.99 for 12 months)
Support for Text-To-Speech (TTS) voice directions (TTS costs £2.99 for lifetime use)
Ability to import custom Points of Interest (POI) databases in CSV or OV2 format
Improved display support for HVGA resolution smartphones
Additional stability, memory usage and performance improvements
Unfortunately the update can only be installed via the CoPilot Central 2.0 desktop companion software, which can be downloaded form here.
Further instructions about installing the update can be found here.
Via IntoMobile.com