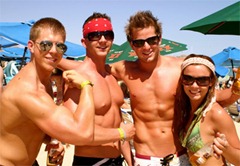 Consumer Reports have taken the unusual step of reporting on the advertising of a phone, in this case the KIN, and it is not to complain about consumers being misled, but rather at seeing the disturbing sight of  a male nipple.
This horrendous sight has put the consumer product review company in a spin, suggesting Microsoft is intent on corrupting the youth with this villainous sight.
They complain:
The video, on a promotional site for the new phones, includes a downright creepy sequence in which a young man is shown putting a Kin under his shirt and apparently snapping a picture of one of his naked breasts. The breast is then shown on the phone's screen, just before the guy apparently sends it to someone. Next we see the face of a young woman, seemingly the recipient, with an amused expression on her face.
Thank god we have Consumer Reports thinking of the children for once.  They have already announced their next target is Spring Break.
Via CNET.com