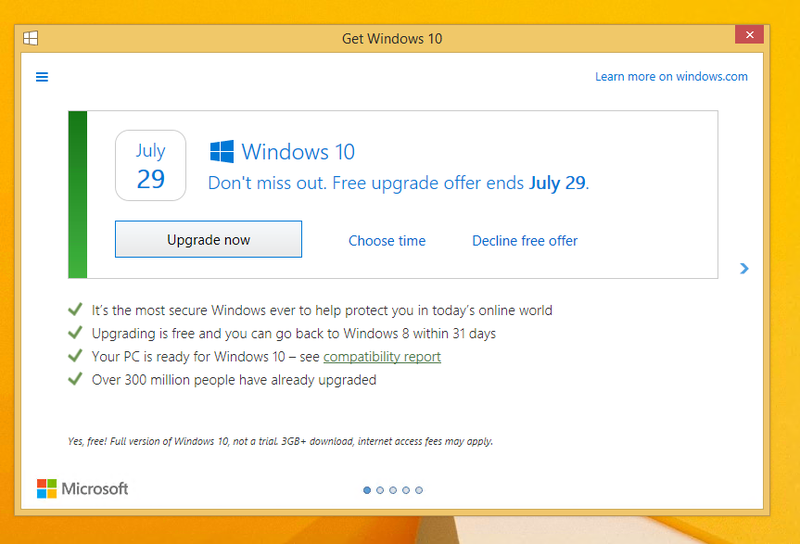 We have reported in the past on consumers taking Microsoft to court claiming compensation for issues which they relate to the free Windows 10 upgrade Microsoft offered between June 2015 and July 2016, a push which the Electronic Freedom Foundation  called "trampl(ing) on essential aspects of modern computing: user choice and privacy."
Now in research commissioned by UK consumer advocacy group WHICH? the company revealed that for a significant percentage the upgrade caused issues severe enough for them to roll back to an earlier version of the operating system.
Which? surveyed views on the upgrade from over 5,500 Which? members in June 2016. Of the 2,500 users who had been upgraded to Windows 10 from an older version of Windows, more than one in ten (12%) ended up rolling back to their previous version of the operating system.
More than half of that group stated that this was because the upgrade had adversely affected their PC.
Once installed, people reported various problems, including printers, wi-fi cards and speakers no longer working with their PC; instances of lost files and email accounts no longer syncing; and, most significantly, their computer encountering such problems that they had to pay someone to repair it.
The issues may have been less galling if users did not feel corralled into upgrading, complaining of being being 'nagged' by Microsoft alerts to install the new update and, despite declining notifications to install the software, they told Which? Windows 10 installed itself anyway.
Which? reports they had hundreds of complains from users and while Microsoft said in a statement that they offered free support for the upgrade, some users also complained about poor customer service from Microsoft when users contacted the company about the problems they are having.
Which? is calling on Microsoft to honour consumers' rights, including paying compensation where it's due, such as when consumers had to pay for a repair.
Which? notes consumers may not be aware that they have rights under the Consumer Rights Act 2015 when it comes to 'digital content', such as Windows 10. These include:
• Just like other goods, digital content must be of satisfactory quality, fit for a particular purpose and as described by the seller. If the content is faulty you're entitled to a repair or replacement
• You can also ask for your money back, up to 100% of the cost of the product
• In many cases, if the faulty digital content damages your device or other digital content, you can have these repaired or be compensated.
Alex Neill, Which? Director of Campaigns and Policy, said: "We rely heavily on our computers to carry out daily activities so, when they stop working, it is frustrating and stressful. Many people are having issues with Windows 10 and we believe Microsoft should be doing more to fix the problem."
In Microsoft's official statement on the research, which surveyed 5,596 Which? members in June 2016 Microsoft said:
'The Windows 10 upgrade is designed to help people take advantage of the most secure and productive Windows. Should someone need help with the upgrade experience, we have numerous options, including free customer support.'
There is no doubt that the upgrade went very wrong for a certain percentage of users, and that Microsoft pushed it very hard. This push is fortunately now over, meaning Windows 10 will either come pre-installed on new hardware, or users will very consciously choose to purchase the software, with very clear rights around its fitness for purpose.
Do our readers think Microsoft should pay where the update caused financial issues such as loss of earnings or extra support costs? Let us know below.