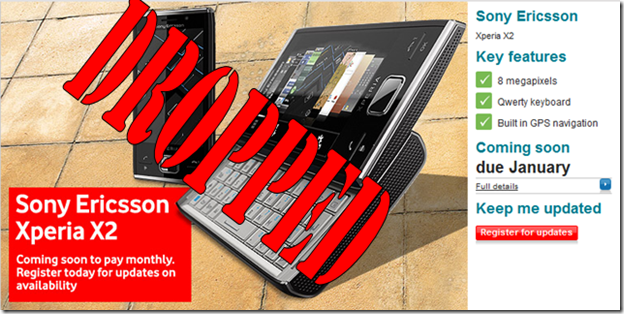 We have now received an official confirmation from a Sony Ericsson spokesperson that the Sony Ericsson Xperia X2, which was meant to be exclusive to Vodafone UK, has now been officially dropped.
The statement reads as follows:
Sony Ericsson can confirm that the X2 will not be released by Vodafone in the UK. The delivery date of the product has slipped due to extended testing and the product, which was exclusive to Vodafone in the UK, no longer fits within their planned portfolio. The handset is available in other Sony Ericsson markets however. Sony Ericsson is disappointed not to make this phone available to consumers in the UK but in 2010 the company will be offering a number of innovative, stand-out products in the market.
While most of our readers will not miss the device, it is of note that at present there is no Windows Mobile phone with an 8 megapixel camera, and that the Xperia X2 corrected most of the deficiencies of the X1, meaning its loss will leave somewhat of a hole in the whole Windows Mobile ecosystem.
Given Sony Ericsson's history with the X1 and X2, would our readers trust them with another handset? Let us know below.