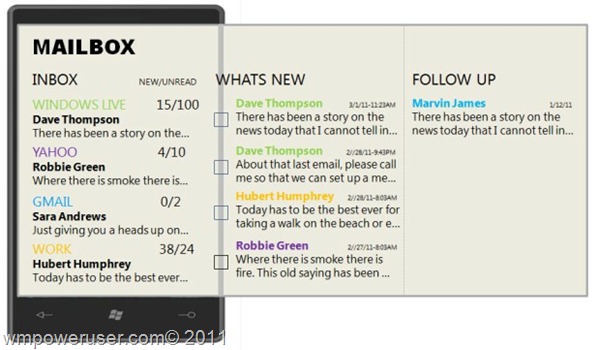 I think Windows Phone 7 has the best looking email application. However, the lack of a centralized hub a.k.a unified inbox, makes it a mess for power users with multiple email accounts. In the above concept design, the first section after the user taps on the email tile sends them to the general mailbox. On this page, all the accounts are listed with different color codes, the first words of the newest email, and the number of new and unread emails. Tap on any of the mailboxes and the user is taken directly into the main inbox of that particular account.
The next swipe leads you to the what's new page which lists new emails from all accounts in chronological order as they come in. The color coding on the contact gives a quick indication which account the email is from. When a user taps to the left of the email, a check box appears so that they can delete the email (multiple emails) or mark them to follow up. A user can also read the full email on this section by tapping on it without having to go to the main email application. There will be a setting that can filter what emails shown on this page to limit them to only certain contacts of your choosing. There could also be a toggle on the app bar at the bottom to switch between all or just favorites.
A third swipe leads to the emails marked to follow up. I'm not sure how that can be done technically for all the different accounts to appear on that one page but I assume smarter programmers than I can figure it out.
As for the live tile, below is a concept  drawing of how it would look like.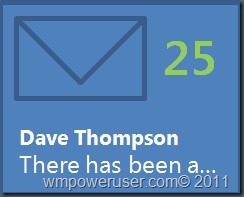 The new emails number matches the color for the particular email account. Below it, a short excerpt of the newest email shows up. For users with multiple accounts, this tiles cycles through the various email accounts showing how many new emails are in those a inboxes. For the people with only a single account, this tile will slide up to show excerpts of the first two newest emails. To make the tile even more dynamic, the mail icon will get fatter as more email comes it to subtly suggest that action is required similar to the way the text message icon changes as more texts come in.
I welcome your suggestions on anything that can be done to improve upon the concept.