Comscore has released some market share numbers for USA for the 3 months ending October 2015.
The numbers reveal 2.7% of US smartphone users used Windows Phone, down from 2.9%in the 3 months ending July 2015 and from 3.5% a year earlier.
With 193.9 million Americans using smartphones, that leaves Microsoft with 5.2 million Windows Phone users in the region, down 300,000 from 5.5 million in June 2015.
The loss of share is consistent with the challenges the OS is facing and will face over the next 6 months as carrier support and sales have further reduced in USA, with Kantar's latest report giving Windows Phone only 2.7% sales market share in the region over the same period.
See the full table below: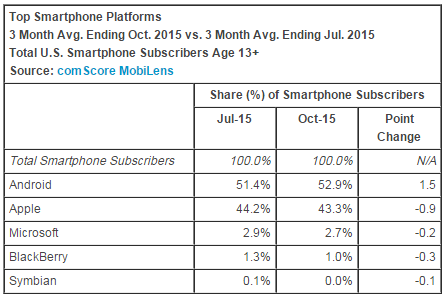 Comscore's full report can be read here.