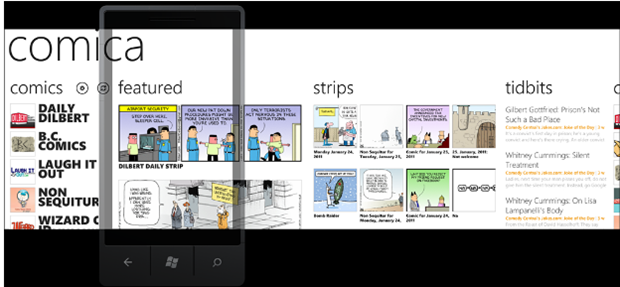 Comica, the popular web comic strip reader on Windows Phone has been updated to v1.3 bringing more selection to the comics range and improving upon the app user experience. The new channel view lets users enjoy all comic strips by channel, without even requiring to open each article and zooming in.
Comica syndicates feeds from popular comic and laughter channels including Daily Dilbert, Amazing Super Powers, Antics Comics, BC Comics, Blondie, Bug Comics, Calamities of Nature, Comedy Central, Cyanide & happiness, Doghouse diaries, Garfield, Get Fuzzy, Heathcliff, Jokes2go, Laugh it Out, Luke Surl, Non Sequitur, Pearls before Swine, Phd Comics, Pidjin, Wizard of Id, Wulffmorgenthaler, XKCD, and many more.
The app is still priced at $1.29 with a trial and can be found in Marketplace here.