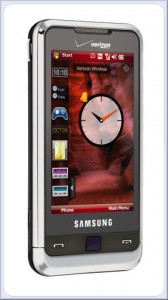 While we don't normally make much of CNET's cellphone reviews, we can certainly get behind this one. CNET has reviewed the new Verizon Samsung Omnia, and feels it is much better than the Verizon Blackberry Storm, released just a few days ago.
Their conclusion was:
The good: The Samsung Omnia features a spacious touch screen with customizable Home screen, haptic feedback, and accelerometer. The Windows Mobile smartphone also offers Wi-Fi, GPS, Bluetooth, and EV-DO Rev. A support, as well as a 5-megapixel camera and robust multimedia features.
The bad: You're still limited to the preloaded widgets. The onscreen keyboard is a bit cramped, and the Omnia can be sluggish.
The bottom line: Though slightly more expensive, Verizon customers looking for a touch-screen smartphone will get a better user experience and faster performance from the Samsung Omnia than the RIM BlackBerry Storm.
Read the full review at CNET.com