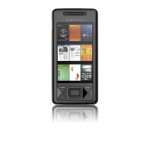 CNET has published a preview of the much anticipated Windows Mobile superphone, the Sony Ericsson Xperia X1. They like the panel interface, but lament the slight lag present, although this was blamed on prototype hardware. It seems of all the features (HSPDA, GPS, 800×480 screen, arc slider) its the 3.5mm headphone jack they are most impressed with, a lesson other smartphone OEM's may consider taking to heart.
Of note is this quote from the article:
"The Sony Ericsson Xperia X1 will be available to buy in June and will most likely come free on a monthly contract."
While the Xperia is widely expected to only arrive in stores in September at the earliest, we can only dream that this bit of information is true.
Read the full preview here.