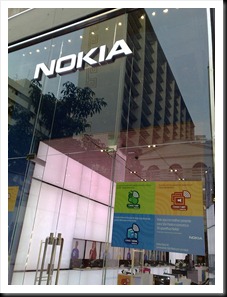 With Nokia's fortunes falling,  they have been forced to shutter some of their stores because of decreased demand. They have closed stores in the UK, US and recently in Russia. These stores were located in prime location so it is shame to see them go. I have no idea if Nokia still owns the buildings but wouldn't be great if Microsoft bought these stores and converted them to Microsoft stores? They are already in ideal locations, already designed to sell electronic devices so the remodel and conversion should be quick.
This same process could also be extended to Nokia stores that are still currently operational since Nokia has essential decided to go all in with Windows phone and hopefully Windows 8. This gives Microsoft  Windows Phone an immediate first class physical  presence and speeds up the number running Microsoft stores so that more consumers can experience the new OS without bias and have their questions answered by knowledgeable representatives.
What do you guys think?