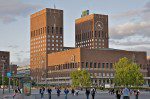 ZDNet reports that the City of Oslo has put out a tender for 3000 Windows Phones to be used by their Care of the Elderly Agency.
The handsets are to be used with their Gerica case work system, developed by Finnish company Tieto.
The handsets need to be at least WVGA with 4 inch screens and NFC, and 1 Ghz processors, though the larger the screen the better, which suggests a handset like the Nokia Lumia 625 may find favour.
If the initial deployment goes well the City of Oslo may roll out the handsets to more of their 43,000 employees.
The tender is a good sign of the increasing acceptance of the Windows Phone operating system in enterprise settings, something we will hopefully see more of as Microsoft takes direct control of Nokia's handset division.