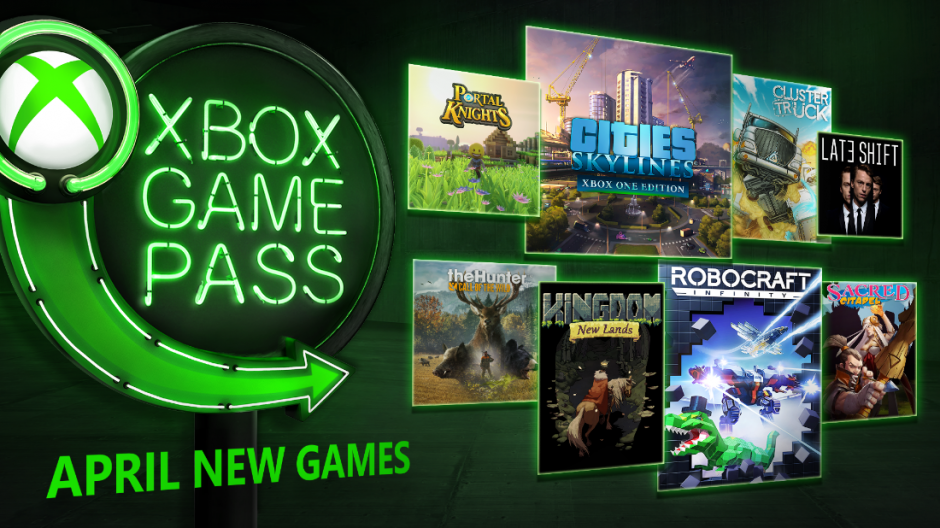 A couple of weeks ago during the premiere episode of Inside Xbox, players received a quick tease of the games coming to Xbox Game Pass in April. In addition to the previously announced Cities: Skylines, we now know the seven other titles joining it. Xbox Wire unveiled the full list and it includes game like theHunter: Call of the Wild and ClusterTruck. It's not as big a month as March was with Sea of Thieves, but they're a decent batch of games nonetheless.
You can read the full list of games coming in April below.
Cities: Skylines
Robocraft Infinity
theHuner: Call of the Wild
Kingdom: New Lands
Portal Knights
ClusterTruck
Sacred Citadel
Late Shift
All of these games will be joining the program on April 1 with the exception of Robocraft Infinity which launches on April 11. This will mark the first time an [email protected] game debuts in Xbox Game Pass the same day as its release on Xbox One. Titles are continually rotated in and out so check out these games while you can.
Xbox Game Pass is a monthly subscription service that gives players access to a rotating catalogue of over 100 digital games, including titles on Xbox One and Xbox 360. In addition to downloading the games directly to your console for the best experience, you will also receive discounts on certain games and related add-ons. Xbox Game Pass costs $9.99 a month, but you can start a 14-day free trial today.