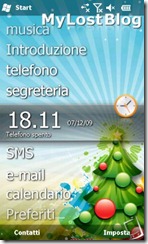 Some of our readers may have notices the festive dusting of snow on WMPU.  Mylostblog is doing some work to get your smartphone in the Christmas spirit too by releasing some Christmas themes for current generation Windows Mobile smartphones.
The themes are free and can be downloaded here.
Thanks Kelly for the tip.