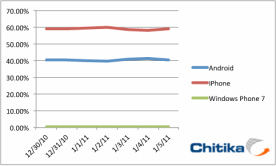 Chitika has once again released some traffic news, which they used to interpret mobile market share.
Unlike last month, when they released more detailed figures which allowed us to draw out own conclusion, on this occasion they just note that Windows Phone 7 is now 0.44% of the combined iPhone and Android market share, and drawing the conclusion that the 10% growth since last month's 0.4% was "happening, but not very quickly" and further went on to compare Windows Phone 7 market share to Windows 98, I am sure on purely objective grounds.
What Daniel Ruby however misses from his analysis is that, since Windows phone 7 gained market share it must have grown sales faster than the iPhone and Android over the hot Christmas period.
They also mention that the small installed base of Windows Phone 7 devices already generate nearly haft as much traffic as the installed base of Windows Mobile handsets, which are still around 10% of the US smartphone market for example.
Now of course Windows phone 7 is growing from a small base, but if the Chitika stats demonstrate anything, it is that consumers are choosing Windows Phone 7 in increasing numbers, and we hope the more devices are out there for people to see and touch, this will only accelerate.
via theNextWeb.com