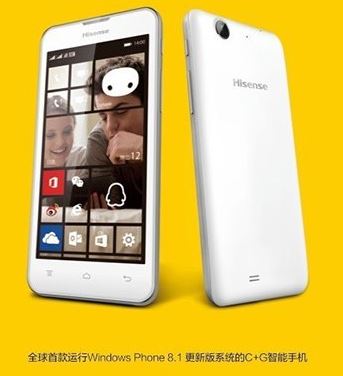 Chinese OEM HiSense has announced another Windows Phone device. This device named 'Nana'(model no.E260T) will be the first Windows Phone device with CDMA+GSM Dual-Sim support. Microsoft added this support only in Windows Phone 8.1 GDR1 update. Since this device will come pre-installed with WP8.1 GDR1, it will also feature Huna, the Chinese version of Cortana.
Inside the device, you will find 5-inch HD display, Qualcomm Snapdragon 200 processor, 1GB RAM, 8MP rear and 5MP front cameras and 8GB internal memory with support for microSD card. The device will go on sale this month for 599 Chinese Yuan (~$100 USD). The source link claims that this device supports Android OS as well, I guess it was a wrong info from HiSense marketing executive.
Read about HiSense's first WP8 device MIRA6 here.
via: Cnbeta