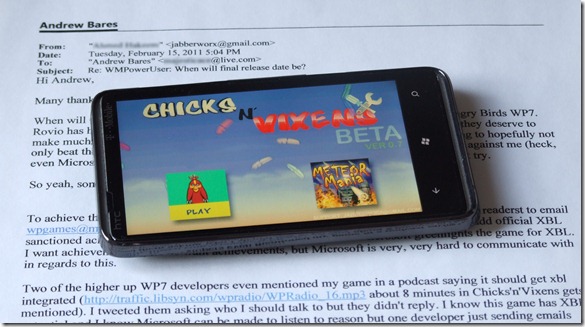 Chicks'n'Vixens quickly rose to fame as the Angry Birds alternative for Windows Phone 7, and already received another update two days ago, adding better cannon controls, an upgraded auto-camera system, and more levels! And the full version of Chicks'n'Vixens will hopefully be released before March 1st. Continue reading for more details, sneak peaks, videos, and info on how you can help the game become an Xbox Live title! 
In the new 0.7 Beta update (which is free for everyone to download), the cannon controls have been changed to use a slingshot aiming method, which now lets you adjust the velocity of the cannon. Also, the camera has been fixed up some so that you can play the entire game without even having to manually pan around the screen. This means that when you launch the chick, the camera will follow it in flight, and then the camera will automatically return to your cannon so you can shoot the next one. Finally, the update also added more levels. These new levels show some great creativity and are proof that the developer is devoted to making this game longer and better. Watch the video after the break to see how the new update works. Also, continue reading past the break to hear the insider news from the developer and info about it becoming an Xbox Live title:Â 
We talked to the developer of Chicks'n'Vixens and received some fabulous news from him. Firstly, he hopes to release the game before March 1st, in order to beat Angry Birds to the punch. Secondly, he mentioned that Chicks'n'Vixens has been downloaded 13,000 times as of 2/9/2011. That's more downloads than Need For Speed or Pocket God! And finally, he provided us with a sneak peek at the upcoming level designs, including a Paris-themed background and a never before seen artic theme!
Although the success of Chicks'n'Vixens is great so far, JabberWorx, the developer, has higher ambitions and wants to see his game become a Xbox Live title. He really wants official Xbox achievements and leaderboards in the game, but communicating with Microsoft hasn't been easy, and he needs some outside influence to help the game become a Xbox reality. One way you can help is by emailing [email protected] and asking them to make Chicks'n'Vixens an Xbox Live title. Currently, the Xbox Live titles only consist of large developers, so Microsoft is really hurting the individual developers with their system. If you think an individually developed game like this deserves to be an XBL title, share your thoughts at that email address. You can also tweet @brianseitz, @skipdeez, @BrandonWatson, @mklucher, @shawnhargreaves, and @Ozymandias  in order to help Chicks'n'Vixens become part of the Xbox Live ecosystem. 
Try Chicks'n'Vixens for FREE in the Marketplace, and keep up with the latest updates by following @JabberWorx on Twitter.