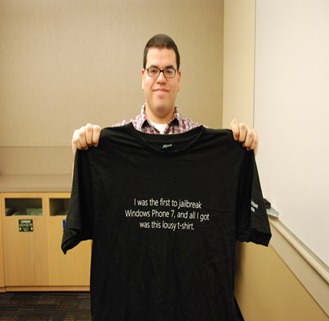 The ChevronWP7 team (or at least Long Zheng and Rafael Rivera, Chris Walsh missing out due to a delayed visa, but attending via video conference) are meeting with Microsoft today to discuss the home brew scene on Windows Phone 7.
So far we have not heard any news of the outcome of the meeting, but at least the team got a T-shirt for their troubles.
The team had withdrawn their free Windows phone 7 developer unlock tool at the request of Microsoft in preparation for the meeting, but the software quickly escaped their control, and is at present still being widely used on XDA-Developers.
Ultimately the best solution would be an approved home brew system which still prevented Marketplace-signed apps from being side-loaded.  We will report on the results of the meeting as soon as these become available.
Via WPCentral.com