Today, Microsoft announced the Windows Phone 8.1 Update that will be rolling out as developer preview next week. This update includes many improvements and some new features as well. Find the list of new features coming in this update below,
1) Live Folders:
We have seen folders concept for organizing apps in many other smartphone platforms. Microsoft bringing the same to Windows Phone platform to help you organize Live Tiles. Microsoft is calling this as Live Folders because the live tiles of apps appear in the tile of the folders, so you won't miss tile updates because you group apps in a folder.
To create a Live Folder, just drag a tile over another tile and then name the folder. Open the folder to change the folder name and arrange and size the tiles however you want.
2) Updated Xbox Music App:
With Windows Phone 8.1, Microsoft replaced the old Music+Video app with the new Xbox Music app. But this app fell short of expectations due to poor performance and lack of features.  The Xbox Music app has been updated to deliver much better performance in areas like app load and list scrolling. Microsoft is updating the app every two weeks, and recently added  background sync of your collection, to swipe to advance and more. They will be adding a "quickplay" of recent playback activities, and support for Kids Corner.
3) Store Live Tile:

You will be wondering why Microsoft took so many years for delivering this feature. Yes, Windows Phone Store has now added support for Live Tiles which makes it easier for you to see the latest info about the latest apps and games available in the Windows Phone Store through its Live Tile. If you have the Store pinned to your Start screen on your device, you'll get updates on the newest titles – refreshed every 6 hours – streamed dynamically to you throughout your day.
4) SMS Improvements: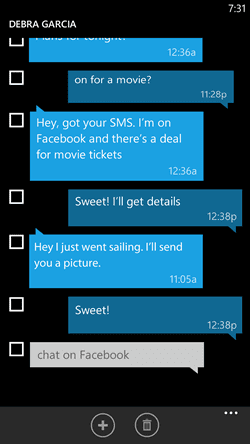 Microsoft has now added the ability to select multiple SMS messages for deletion and forwarding, making it easier to manage your text messages. It will come handy for messaging junkies!
5) App Corners: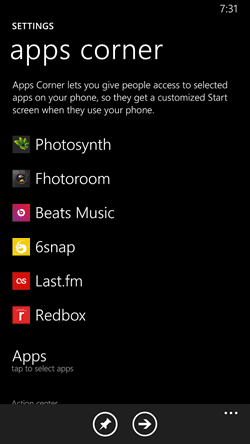 This is a cool enterprise focused feature. With the new Apps Corner, enterprise can specify which apps are displayed in a special "sandboxed" mode (like a protected Start screen) that restricts which apps are used. Apps Corner can be used to setup retail demos. Retailers can export the profile of Apps Corner on one device and import it on to other devices. There are several other scenarios where this App Corners can be used.
6) Enhanced privacy and security:
Microsoft has also made some improvements in the Windows Phone 8.1 Update regarding privacy and security. This update has added the ability for you to send and receive data through a virtual private network (VPN) when connecting to Wi-Fi hotspots giving you another layer of protection. And If you're on your home wireless, you can now create a VPN that provides anonymity to help shield your device from being identified by other devices on the network.
Apart from these, Microsoft has also added several hardware related improvements like support for Smart Covers, qHD displays, and more.
What do you think of these new features?
Source: Microsoft