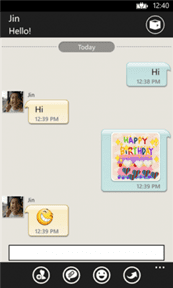 Given that the Samsung ATIV S has not been widely distributed yet it is ironic that Samsung has already updated their ChatOn messaging app to Windows Phone 8, but has kept it exclusive to their own Windows Phone handsets.
The cross-platform application is already available on the iPhone and Blackberry OS.
Version 1.56.0.4 now supports Windows phone 8, and features a new logo and some user interface improvements.
If you are lucky enough to have an ATIV S you can find the app in the Windows Phone Store here.