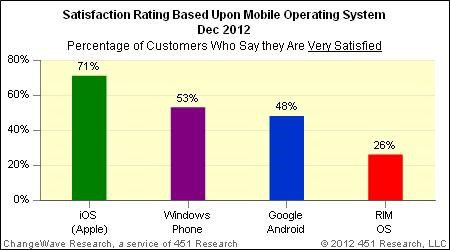 Consumer Research company ChangeWave polled 4,061 North Americans last December about their smartphone opinions, and once again found Windows Phone scored very well, despite its small market share.
53% of Windows Phone users were "very satisfied" with their phones, 5% higher than Android, but still below iOS at 71%.
Nokia was a great beneficiary of the of the switch, with their customer satisfaction rate increasing from only 23% of users "very satisfied" in December 2011 to 56% now being "very satisfied", ahead of Samsung who scored 55%.
Windows Phone has been steadily gaining market share, and with more apps arriving these scores will hopefully continue to increase, making owners great ambassadors for the product.