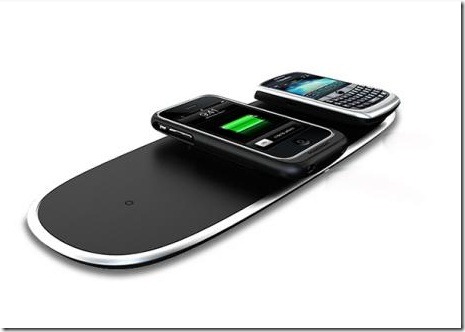 Do you have a bit of Palm Pre Touchstone envy? Powermat has finally evolved their product enough so that almost any phone can be turned into an inductive charging device simply by replacing the battery with one by Powermat that includes the charging receiver.
Powermat, who sold more than 750 000 units sunce October 2009, will be showing off their new technology at CES.
"It's all about freedom and convenience," said Ron Ferber, President of Powermat. "While our initial line delivered on our promise to eliminate the hassle of plugging and unplugging allowing consumers to plug in their Powermat and simply Drop and Charge the assortment was limited to a handful of popular devices and charging environments. For 2010 we've taken our product line to a whole new level through the successful miniaturization of our technology to the ASIC level.
With this and other incredible advances we've increased the selection of devices that we're able to wirelessly charge to include virtually every brand of handset or handheld device. At the same time we're offering a full range of new mats that allow consumers to charge in every possible environment, no matter where they may be.
Our next generation of products takes Powermat to an unsurpassed level. In fact our technology is so mature that we are already working with many top tier OEM brands that will be launching Powermat-enabled models in 2010."
More than 10 models from HTC, Blackberry, Nokia, LG, Samsung, Motorola and Sony Ericsson will debut at CES, but the technology can be applied to virtually any phone ensuring access to the freedom and convenience of Powermat wireless charging to consumers worldwide. Devices without removable batteries like the iPhone will continue to have to use a charging sleeve, which can interfere with the ergonomics and style of the device.
Powermat will be launching a sleek new line of single, double and triple position mats for home and office use – Powermat 1X, Powermat 2X & Powermat 3X.
Read more at Powermat.com here.
Via Engadget.com