evoMouse Cube                 Click for larger versions                evoMouse Pet
Here is another cool gadget to come out of CES. evoMouse has announced two new devices that bring wireless mouse and keyboard support to Windows Mobile. 
The evoMouse Pet is the simplest, and resembles a small dog.  It uses two infra-red sensors to track your finger on a table, allowing you to use your finger to simulate a mouse.  You can click, double-click, right-click and drag with particular gestures,and on operating systems that support it even use multi-touch gestures.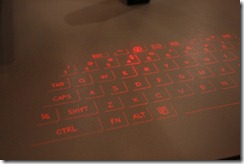 evoMouse Cube, the more advanced version, also includes a projected keyboard, which cope with up to 400 characters per minute. It also supports handwriting recognition.
Both devices work over Bluetooth, charge via USB and supports a variety of operating systems, including Windows Mobile. The input devices can last about 2 hours per charge.
Pocket-lint gave the devices a try and found they performed pretty well. Read more there for more pictures and their impressions.