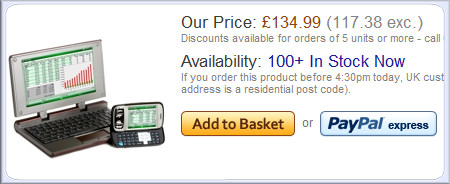 For a limited time only, the Celio Redfly is £20 off at eXpansys and is available for a very tempting £134.99. The offer is only available between 11 am and 4 pm UK time, so if you want one, you better hurry.
The Redfly is a device which extends the capabilities of your Windows Mobile smartphone by giving it a bigger 8 inch 800×480 screen, a much larger keyboard, longer battery life and USB host support for memory sticks and mice. The device caln also connect to a VGA projector and be used for Powerpoint presentations.
If that sounds like your kettle of fish head on over to eXpansys for more info and to snap it up at this bargain-basement price.
Note: Our £10 off eXpansys vouchers do not apply to this deal.