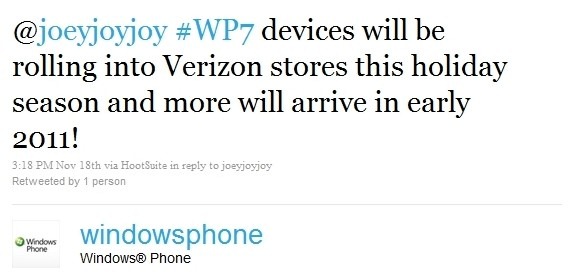 Wow!  Microsoft must be moving into fast gear with Windows Phone 7 development.  We originally heard CDMA support was only coming in H1 2011, and then we heard Microsoft was taking pre-orders for "early 2011".
A new tweet by the official Windows phone 7 twitter account now however claims handsets will show up on Verizon "this holiday season", which could in fact be any day now, with more on the way in 2011.
I think Microsoft giving the impression of late CDMA support has pushed may users to Android handsets, but recent leaks, including this, should help retain users temped to buy a new smartphone this holiday season.
Via Engadget.com
Thanks MobilePaddy for the tip.