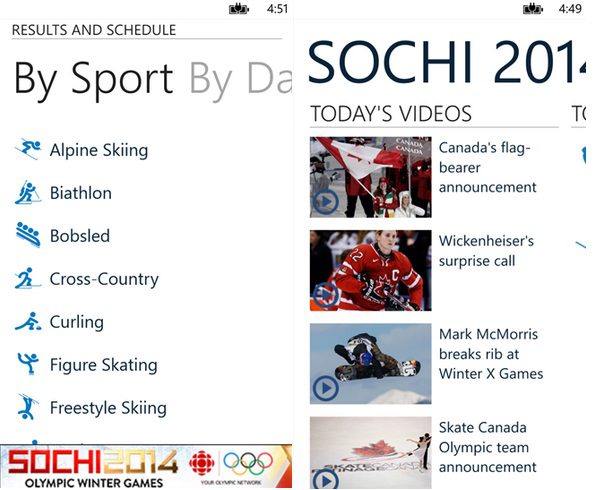 CBC (Canadian Broadcasting Corporation) has released their official Sochi 2014 Olympics app for Windows Phone devices. This app allows you to access the full real-time coverage of the Sochi Winter Olympic Games, including live streaming of all Olympic competitions. The Sochi 2014 Organizing Committee have also published the official Sochi 2014 Guide to the Windows Phone Store. Read about it here.
Features:

* All events streamed live in their entirety and in real time with enhanced stats. Events available as video on demand afterwards
* Simulcast of 20 daily hours of CBC Television Olympic programming
* On-demand video highlights, news, analysis, blogs
* Results, medal count and Canadian athletes' performances in real time
* CBC Olympic Feed will keep users up to date on social media, the latest news and links to the content you need to see, when you need to see it. Athletes and journalists provide live commentary and unprecedented social media coverage from Sochi
* A detailed event schedule and programming guide for CBC, the official broadcaster of the Sochi Olympic Games, as well as for the official sublicensees TSN and Sportsnet
* A second screen experience where users can play along with the CBC Olympic Primetime program.
Download it for free from Windows Phone Store here.