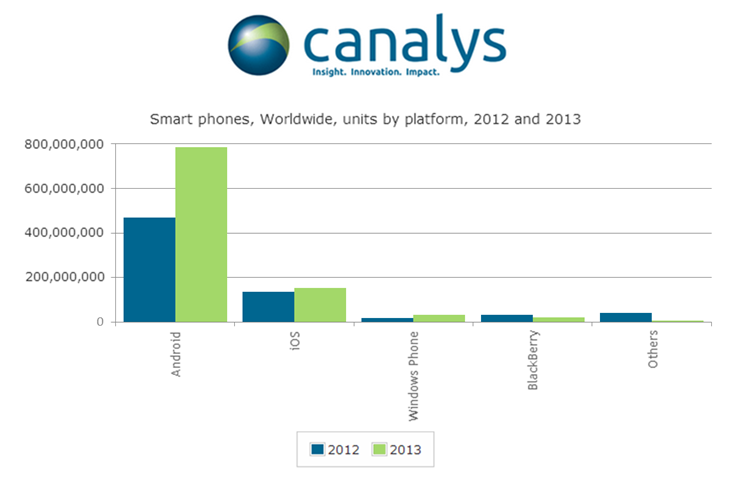 Canalys today published their smart phone shipment estimates for more than 50 countries and they revealed that 998 million smartphones  were shipped in full year 2013. And the numbers were dominated by Android with about 785 million units. Windows Phone was the fastest growing OS platform with 32.1 million units shipped in 2013. Canalys commented the following on Windows Phone platform,
'The soft end to the year stopped Microsoft from achieving still more positive growth,' said Shanghai-based Canalys Analyst, Jingwen Wang. 'Market uncertainty and caution affected Nokia's performance in Q4, with Microsoft's acquisition of its devices business yet to complete, as did arguably insufficient marketing, as Nokia and Microsoft failed to stimulate sufficient demand for the latest Lumia products to deliver a seasonal sales boost. With Lumia accounting for such a dominant portion of Windows Phone shipments, the growth of the OS faltered too. It will be vital that on completion of the acquisition, integration takes place quickly and thoughtfully. Microsoft has much to do if it is to continue carving out a growing share of the smart phone market, not least driving the platform down to new entry-level price points, delivering innovation and new features, particularly at the high-end, and proactively working with, supporting and encouraging developers to commit to building compelling apps, and bring its app story closer to parity with its competitors. It cannot afford lengthy delays or distractions, and the combined Windows Phone devices team needs to hit the ground running.'
I second the above comment from Canalys. What do you think?
Source: Canalys