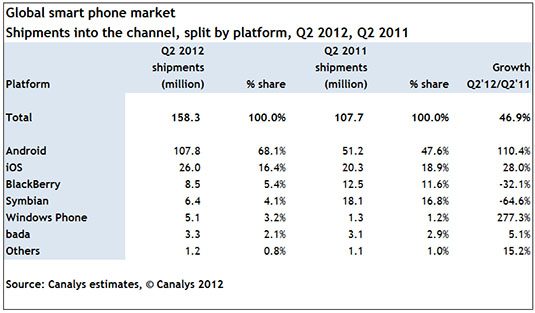 Canalys Market Research firm today published its final Q2 2012 country-level shipment estimates. China saw phenomenal growth of 199% year-on-year and 32% over the previous quarter capturing 27% of the total smartphones shipped worldwide. Samsung led the OEM stats for the most shipments of smartphones followed by Apple and Nokia.
In platform based numbers, Windows Phone saw a 277.3% growth YoY. 5.1 million Windows Phones shipped in Q2 2012 comapred to 1.3 million in Q2 2011. From the numbers we can easily derive that Nokia Lumia accounts for almost 80% of the Windows Phone shipments last quarter. I hope Windows Phone 8 launch will further push device sales further from Q4.
Source: Canalys
Thanks to Arun for the heads up.