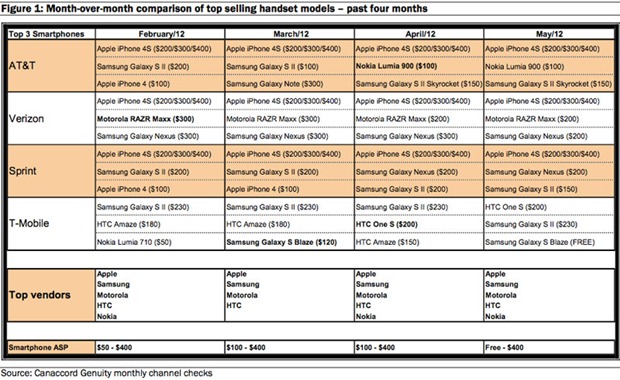 Canaccord Genuity have published the result of their monthly US retail checks and has confirmed the report by Pacific Crests James Faucette that the Nokia Lumia 900 has continued to sell well.
Their table above confirm that the Nokia  Lumia 900 has held the second place spot on AT&T for the last 2 months now, and has placed Nokia as a top US vendor – quite a turn around for the Finnish company that never really had any traction in the US smartphone market recently.
It remains to be seen how well the handset weathers the coming onslaught of the HTC One X in early June and the Samsung Galaxy S III, not to mention the iPhone 4S, but we think by then at least 1-2 million more new Windows Phone users will have joined our ranks.
It is of note than RIM is no longer a top US smartphone vendor, another sign that Windows Phone sales have overtaken their aging OS.
Via AppleInsider.com
Thanks Arun for the tip.