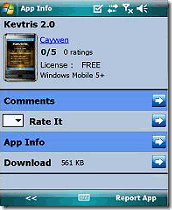 CabXpress is one of a growing number of App store like applications for Windows Mobile plugging the hole left by the continuing absence of the Windows Mobile Marketplace. 
The software provides easy access to a large number of shareware/demo and freeware cabs using a finger-friendly interface. With CabXpress you can rate Apps, leave comments, sort Apps etc..
New in version 3 are enlarged app screenshots, browsing with directional keys, an improved interface and improved comment entry and the top 10 application list has been expanded to 20 entries.
Please note, given all the software is free, the app is add-supported.
Read more and download the app at FreewarePPC here or enter this tinyurl in your mobile browser: tinyurl.com/cabexpress