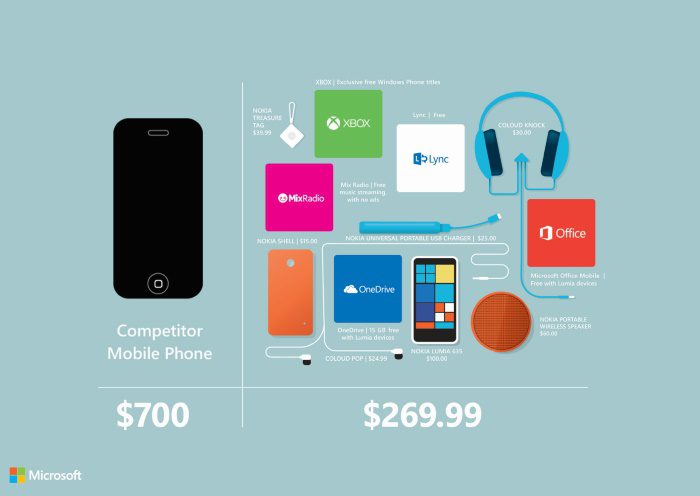 Nokia US today tweeted a photo which compares the price of an iPhone with the price of Microsoft products. As it turns out, you can buy more than 10 Microsoft Products for less than half the price of an iPhone. These are the Microsoft products that you can buy for only $294.98:
Microsoft Lumia 635 handset – $100
Xbox "exclusive free Windows Phone titles"
Additional Lumia 635 shell – $15
Nokia Portable Wireless Speaker – $60
Coloud Pop headset with buds – $24.99
Coloud Knock headphones – $30
Nokia Universal Portable USB Charger – $25
Nokia Treasure Tag – $39.99
15GB of OneDrive storage – free
MixRadio music streaming – free
Microsoft Lync – free
Office Mobile – free
As you might have noticed from the infographic (above), the total price of the products was wrong. The correct price of all of these products are $294.98 altogether. At the end of the day, it depends on how a consumer wants to spend their money. Do you think its much better to buy Microsoft products than buying an iPhone? Discuss in the comment section below!