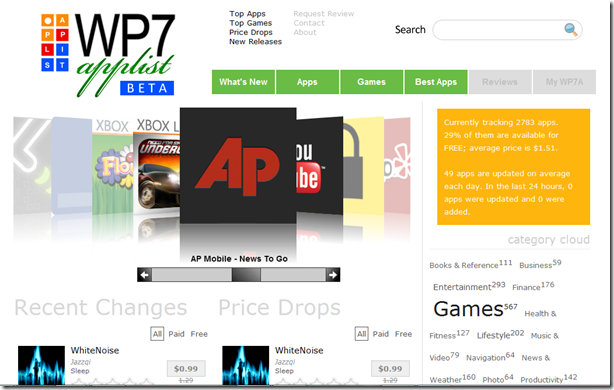 WP7applist.com is the latest entry into the list of websites which offers people to browse Zune marketplace through web browser. Each one of them has a feature set that makes app discovery lot easier.
WP7applist has the following features,
– WHAT'S NEW: get notified of sales (price drops), app updates and new releases
– BROWSE the entire marketplace on the web
– see the most popular games and apps by category, and/or overall
– DOWNLOAD apps with one click, see details and full ACTIVITY HISTORY (updates, price changes)
– DEVELOPERS: get your apps spotlighted on the site (get in touch via twitter @WP7applist or via email at wp7applist [at] gmail.com
Upcoming features: a more user friendly interface to browse app lists, reviews, and more ways for developers to have their apps showcased.