Board Express Pro is a paid app that lets you view thousands of different forums in a finger-friendly and fast format.
This app follows the Windows Phone design elements perfectly, but the interface and scrolling is sometimes choppy. Nevertheless, the experience is quite likeable, thanks to the fast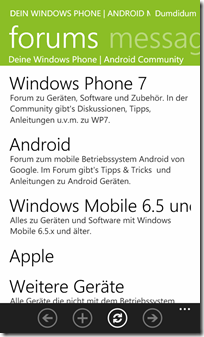 load speeds and nice mobile formatting of the application. You can view threads, manage subscriptions, sign into various forums, use your inbox, reply to messages, quote messages, mark threads as read, and more! It's easier to list some of the missing features rather than list all the included ones: You can't quote multiple posts at once, you can't search for things within individual sub-forums, you can't attach images to posts, and a few other things like that. Otherwise, there are lots of features that make this a great app to use! You could definitely use this app instead of visiting forums from the web browser. The interface even works in landscape too, so you can type faster. But you can even set the app to remain in portrait, if you like to read while laying on your side.
If you do run into issues with the app, the developers are more than happy to fix the bugs and update the app. Some bugs I noticed were related to individual forums (for example, XDA-Developers doesn't let you view picture attachments), but other bugs were universal (like the internet connection sometimes seemed to die after leaving and then resuming the application). There will be some issues with different forums, since the developers cannot test every single forum, so they suggest that you notify them if you run into any bugs. If you decide to buy this app, you can rest assured knowing that it will receive updates and eventually improve. As of now, it is a pretty good experience, but could benefit from a more fluid scrolling interface and a few bug fixes. However, the app is extremely faster than loading the full internet versions of the forums, especially since data is cached really well within the application. And some aspects of the app work wonderfully; for example, if you click a link to a different thread post, it will open that thread within the application, keeping the experience consistent.
If you would like to try Board Express Pro for yourself, they have a free trial that lets you view a few forums (but not post) so you can get a feel of how the app works. Otherwise, the full version is $2.99 and lets you sign into all of your forum accounts.
Title: Board Express Pro
Price: $2.99
Publisher: MobileDevices.ch Verein