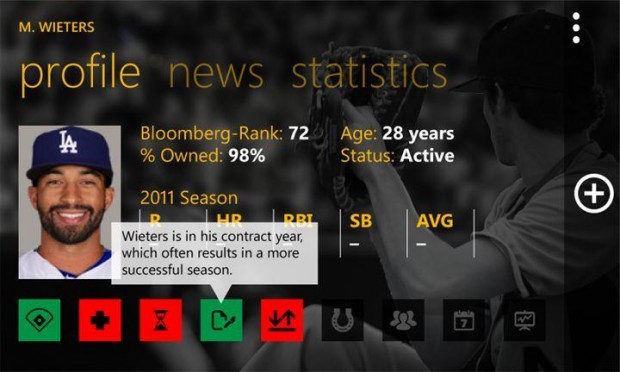 Bloomberg Finance released their "MLB Front Office" Draft Kit 2012 app for Windows Phone last month and now they are back with Front Office Trade Analyzer 2012  just  in time for the 2012 baseball season.
App Description:
 Trade smarter and win your league! Easy-to-use tool for building and analyzing fantasy baseball trades. Syncs directly with CBSSports.com, ESPN or Yahoo! to provide customized advice based on your fantasy league's settings and your roster. Recommends specific trades and demonstrates how they affect your stats.

Bloomberg Sports' Front Office 2012 Trade Analyzer offers powerful algorithms to tell you whether a trade is good or bad for your fantasy team. Straightforward recommendations tailored to your fantasy team will ensure that you never make a bad trade again. View suggested trade ideas to improve your team. Use local market news to stay up-to-date on every player. And when you have built the perfect trade, open your fantasy provider and make an offer that can't be refused. Drag-and-drop player cards to create your trade.

MAKE BETTER TRADES WITH GAME-CHANGING FEATURES:
• Sync directly with your CBS, ESPN and Yahoo! fantasy baseball leagues
• Trade ideas based on your fantasy team strengths and weaknesses
• Dynamic trade meter to see which side is getting the better deal
• Interactive chart shows how the trade will impact every scored stat
• Trade evaluations driven by advanced, proprietary algorithms
• Player cards with key stats, local market news and historical performance
It costs $1.99 and you can download it here from the marketplace.