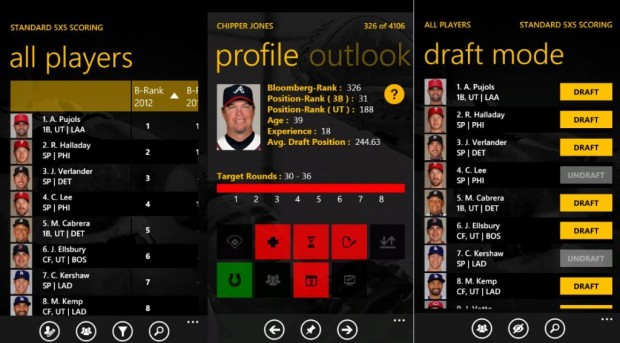 Press Release:
BLOOMBERG sports announces THE CREATION OF FANTASY SPORTS TOOLS FOR WINDOWS PHONEÂ Â 
First Ever Fantasy App For Windows Phone Developed By The Leader In Sports Data Analytics  
New York, April 4– Bloomberg Sports today announced plans to create the best of breed sports applications for fantasy — delivering both the "MLB Front Office" Draft Kit 2012 as well as the Front Office Trade Analyzer 2012 (live in April) for Windows Phone  in time for the 2012 baseball season.
"We are very excited to be able to work with Microsoft on this new application," Bill Squadron head of Bloomberg Sports said. "Our fantasy tools have become the standard by which all others are measured in the space, and this application built around the mobile platform created by with such an iconic technology brand further solidifies that position."
Leveraging Microsoft's unique Metro design paradigm, the Draft Kit and Trade Analyzer leverage this clean aesthetic and the unique, immersive experience developed by Microsoft to allow users to quickly manage their draft lists.  Users can even pin Live Tiles for individual player cards to the phone's Start Screen, a unique Windows Phone feature  that provides a direct link to the player's stats, projections, and news.
"Windows Phone is backed by a rich developer ecosystem that is creating a variety of quality apps and games that take advantage of the phone's unique features and design," said Todd Brix, senior director, Windows Phone Marketplace, Microsoft Corp. "Bloomberg's Fantasy Sports applications are great examples of the kind of rich applications that people will find on Windows Phone Marketplace to get the most out of their phone," he continued.
These new features will further complement all the other existing elements in the Draft Kit and Trade Analyzer mobile applications, including the ability to sync with the major hosting sites from Yahoo!, ESPN.com, and CBSSports.com and get recommendations customized for every fantasy team and player.
Bloomberg's Fantasy Draft product was the leading seller among paid mobile sports apps for most of the 2011 season, further proof that the Bloomberg sports analytic tools are quickly becoming the fantasy tool of choice amongst both avid and casual players.
Bloomberg Sports will also be developing a product for fantasy football for Windows Phone to be released in the early fall.
For more information on Bloomberg Sports, please visit http://www.bloombergsports.com and follow us on Twitter (@BloombergSports) and Facebook.
Download the Draft Kit 2012Â  here.