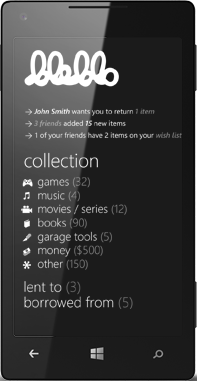 BleBlo V2 is now available and includes free trial or you could have it for free forever by to paying with a Tweet (limited time offer).
BleBlo is the app that allows you to share your collection with friends and family. BleBlo is perfect for any type of collector – anyone from professional photographers, book clubs, amateur DJs, film buffs or professional gamers. BleBlo will help you share and manage your movie collection, vinyl collection or camera equipment with anyone and keep tabs on who borrowed what.
Ever wondered which of your friends have a specific book, blue-ray dvd or rare LP that you are looking for? BleBlo will help you find out which of your friends have those items.
It is easy to use, and natively developed for Windows Phone.
Some of BleBlo's key features include: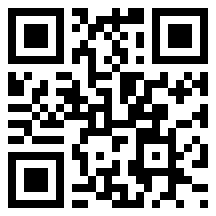 Pre-set and customizable categories
See what your BleBlo friends have in their collections
Add items manually or scan the barcode
Transparent tile support
Lending money to friends is done in a snap
Email notification to friends who lent items from you
BleBlo V2 now includes a 14 day free trial and if you want BleBlo for free forever you can simply Pay with a Tweet, see BleBlo.com for details.
BleBlo is available for $0.99, and can be downloaded by clicking on this link or scanning the barcode below.
If you have any questions please email sorted@bleblo.com