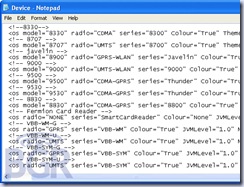 As an update to our  last article on BAS (the so-called virtual blackberry), it seems RIM has sent this out as a beta to other companies. For those of you who have found Blackberry Connect useful, this blows it out of the water in so many different ways. This speaks to how powerful Windows Mobile is as we've seen it have both Andriod and now Blackberry running alongside Windows Mobile. Now let's get to the nitty gritty.
Blackberry Messenger works (for all of you BM fanatics) along with Blackberry Maps. BES and BIS seem to work as well so this truly a very powerful application. But there are 1 or 2 drawbacks (as Jeremy Clarkson would say). As far as eligible devices go, only the HTC Touch Pro/Fuze and the TyTn II work are compatible as they have the physical keyboards which are needed for BAS is based on OS 4.2 . THAT right there is a big let down as the graphics are based on 4.5 but will have 4.2 underneath.
For those of you that don't know, OS 4.2 is from the Blackberry Pearl and Blackberry Curve. I personally have found that boring, overly simplistic and their media features to be horrendous. OS 4.5 comes from the Blackberry Bold which I actually did like a lot. So BAS fixes the issue of it looking boring and being simplistic to a fault. For all you CDMA Fans, BAS is not compatible although it works with over 8 different languages. Windows Mobile handles all the texting and calling features so it's not a full Port. Some may be a bit disappointed with that.
Much love to Boy Genius for the Scoop! Click here for the full article.