If you're looking for a Craigslist viewing app for WP7, Craigslist deLUXE is probably the best choice right now.
In Craigslist deLUXE, you can view the different listings on Craigslist, all through a consistent interface. Everything you do in the app is touch friendly. And the app even has some features that improve on Craigslist, like the ability to search from multiple cities at once. The app also displays a thumbnail picture of the items for sale when you are looking at the results. And you can view a preview of the text inside each result without even opening the individual page.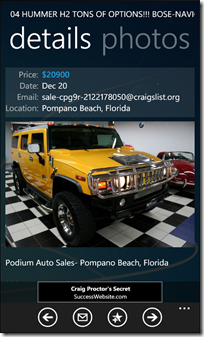 Once you do open a for sale result, you are taken to the text description. You can then swipe to the right and view any pictures in the posting, even if the pictures are from outside sources like Flickr. And if you want to share a result with a friend, you can just click Share and send the link via SMS or email. You can also directly reply to any Craigslist posting via email or phone number.
However, Craigslist deLUXE isn't all perfection. The picture viewing isn't the best, since pinch to zoom and panning around is extremely choppy and nearly unusable. And the app doesn't have smart links for phone numbers, so you may not be able to dial a number inside the advertisement. But overall, Craigslist deLUXE is the best option right now. There is a paid version available for $0.99, and a free Lite version which is identical except with unobtrusive ads.