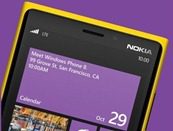 Ben Rudolph, the face of Windows Phone over the last few months, is giving away a few tickets to the Windows Phone 8 event in San Francisco.
Fans hoping to attend the official unveiling of the new OS have to apply to [email protected] and explain in an email why they are the "world's biggest Windows Phone fan." Android users should not apply.
The Rules are:
Be in San Francisco on 10/29.  We're not covering travel or hotels so you're on your own for that if you're coming from somewhere else.
Send an email to

[email protected]

with why you're the world's biggest Windows Phone fan.  Tell us why you love your Windows Phone and why it's made a difference in your life.
Best story wins.  Your tale will be evaluated by me and a panel of illustrious judges like Bill Cox, KC Lemson and David Chen. 
Lucky readers who win can look forward to meeting a member of the WMPoweruser.com team there, where we hope to finally uncover the mystery wrapped in an enigma that is Windows Phone 8.
See the page with the contest here.