Let's face it. For some people the current financial crisis is nothing more than another headline to read in the morning while sipping politely their hot coffee in their 33m long yacht. Those exact people Bellperre had in mind when they announced their new series Gold and Silver luxury phones.
For the less priviledged readers of mspoweruser.com let me explain what exactly Bellperre is and does. The company based in Netherlands is another luxury cell phones maker just like Goldvish, Vertu and some other brands I am sure you know! Don't be mistaken though, Bellperre is not the kind of company that could take an ordinary phone and just throw several expensive rocks on it. No! Bellperre pays attention to the internals of the phone just as much as to the external image of it. And that's why they are featured in this site, simply because they choose to incorporate Windows Mobile on the Silver and Gold series, making it the most expensive Windows Mobile phone money can buy.
The Gold and Silver series gives the buyer the option to select between 100 genuine exotic leathers including crocodile, shark, lizard and buffalo, plus six precious gemstones for enhancing the style of the cell phone.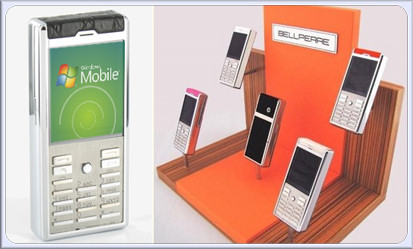 The rest of the specifications, although I don't think they really matter in a phone made out of shark leather, include tri-band support, stereo Bluetooth, MP3 player, built-in camera for pictures and video, Windows Mobile (non touchscreen apparently) and a 2-inch 176 x 220 TFT screen.
As for the price, according to the Bellperre webpage, prices for such a device start at 1259 euro. Although, that may not be so bad for a handmade device, rest assured that the price will sky rocket once a couple of those options boxes are ticked.
Via: techpin