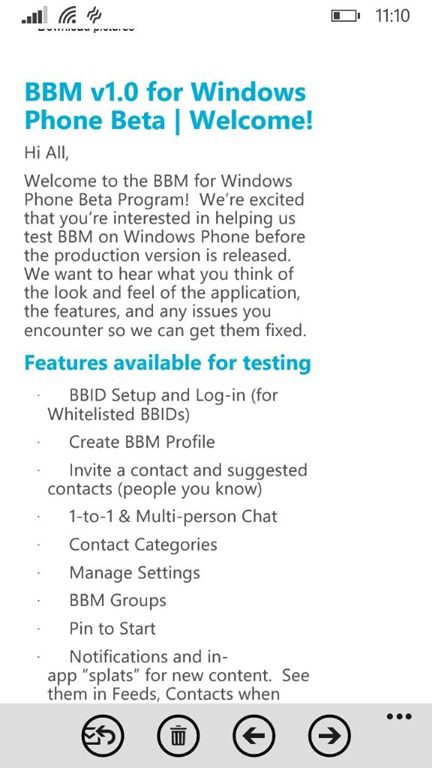 Blackberry has just updated Blackberry Messenger for Windows Phone for the second time in the Windows Phone Store.
The app , which is still in private beta, is now on version 1.0.0.4.
Users report that as a messaging app the app actually works pretty well, though others have complained of connection issues and delayed messages.
The Official Changelog (via NPU) includes:
Fixed Issues:
· BBM takes too long to open

· Takes too long to switch from old device to a new one

· Cannot send email invites. the invites go into inbox as emails

· Device global language settings don't appear to be changing all of the text within the BBM app

· WiFi Out of Coverage WinPhone doesn't send queued invites/acceptances

· When location is turned off and send location in chat a toast or dialog should appear to inform user and turn the location on

· Group profile picture change not affecting the pinned tile image

· Group tile is splatted, but Contacts Pivot is not
Known Issues:
The following are known issues with this build:

· In some WP8.1 devices, stuck in launch screen. Need to exit and re-launch

· There occur occasional crashes in low memory devices (Nokia Lumia 520, 720 – Out of memory exceptions )

· Error popup appears when using "Find Friends" and the "OK" button is selected
The app is expected to exit private beta before the end of the month.
Via Nawzil