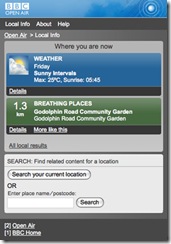 The BBC has launched a new service which lest you know the local weather and upcoming events, and finds your location using Google Gears, which is currently only available on Android and Windows Mobile.
The service, available from BBC's Learning Innovations department is available on their called Open Air website.
"With BBC Open Air we wanted to build a complete demo with a location-based search at one end backed up with some useful content at the other," blogs development producer Dominic Tinley.
"Building this demo allows us to test and demonstrate the technical feasibility of finding a location using the core capabilities of new mobile devices rather than having to develop bespoke applications that a user must install."
Read more about the service at the BBC's blog here.
Via Mobile-ent.biz