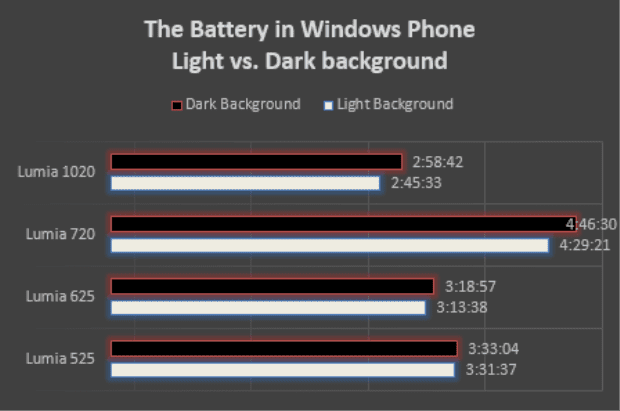 7tutorial recently set out to answer the question – does a dark Windows Phone theme save significant battery life over a light theme?
Testing a selection of 4 devices (3 with LCD screens and 1 with an AMOLED screen) and the WPBench stress test, they surprisingly found quite a significant difference with larger screen sizes.

The biggest saving was of course from the AMOLED Nokia Lumia 1020, which gained about 8% longer life with a dark theme, but even the LCD Nokia Lumia 720 managed more than 6% extra with the dark theme.
On smaller screens it appears to make less difference, with the increase on the Nokia Lumia 525 not being significant.
The savings were from a stress test, which drained the battery in 3-4 hours, but in real life one could easily see an extra 2 hours of battery life over the course of a day.
Read more about the details of the test at 7tutorials here.
Do the findings agree with the experience of our readers? Let us know below.