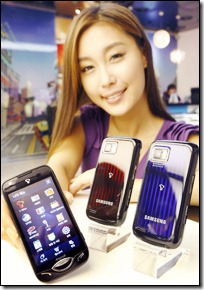 The iPhone is set to arrive soon in South Korea, where it will debut on KT, a smaller carrier, after failing to convince the industry incumbent SK Telecom to carry the device.
Despite this its arrival is still expected to bring competitive pressure to bear on the cell phone market there, where smartphones have been traditionally sold without contract and at pretty high prices.
KT will be offering the 32 GB iPhone 3GS for $317 for buyers signing up for a $38 per month contract, and free for buyers on a $113 per month contract.
SK Telecom is responding with both better advertising and by reducing the price of their flagship device, the Samsung T-Omnia, which previously sold for around $796 for the 4 GB model and $833 for the 8 GB one. The two devices have now seen a drop to $758 and $768 respectively.
SK Telecom is also set to double its handset subsidies and offer discounts to entice users into buying data plans, and even offering the phone for free to buyers who sign up for a $80 per month contract.
LG Electronics, who will be launching the SU210 Windows Mobile smartphone, is also set to introduce the device at the unprecedented low price of $516.  Other companies like HTC and Sony Ericsson are likely to follow suite too.
"Mobile operators are now increasing their spending on handset subsidies on smart phones. Although the increasing costs are a concern, there is a reason to think that consumers will benefit," said an official from the Korea Communications Commission (KCC)'s policy bureau.
While lower prices are in general good news for consumers and smartphone adoption, Apple has been able to achieve this largely at the expense of larger carrier subsidies, while other smartphone companies have been forced instead to reduce their margins, resulting in lower revenue and less ability to produce competitive products.
Read more at KoreanTimes here.