BarcodeZilla is a Zxing based barcode decoding application using your camera that will allows one to download product information (if available) and to edit and upload product and price information for your country as well using a WCF web service.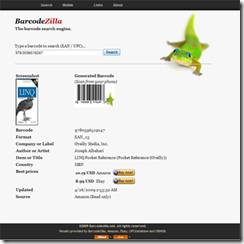 It also connects to the BarcodeZilla web service, from where one can check out the price and purchase the same product from Amazon (so perfect for comparison shopping in the bookstore).
The product is still in development, but already features an attractive user interface and an off-line mode.
Read more about the software in this XDA-Developer thread here.
Via MSMobiles.com