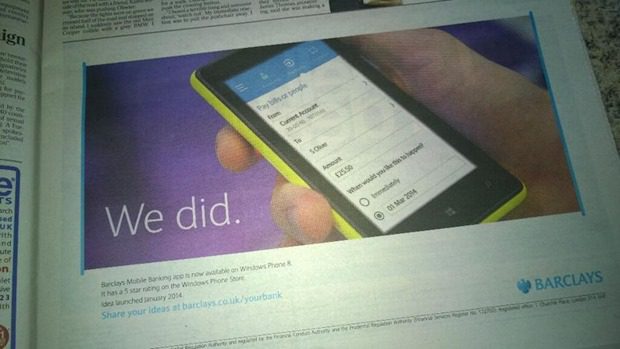 As part of Barclays new promotion about listening to their customers the company has taken out a large half-page ad bragging about their new windows Phone app, noting that:
Barclays Mobile Banking app is now available on Windows Phone.

It has a 5 star rating on the Windows Phone Store.

Idea launched January 2014.
The ad is exceptional for not only assuming that readers would know what Windows Phone is, but also that they would care about an app coming to the platform, and is indicative of the increased presence of Windows Phone in UK, where the Nokia Lumia 520 outsold all Android handsets in December 2013 to be the 3rd best selling handset for that month, and the 4th best selling handset of the holiday season.
If Windows Phone continues to grow in UK we should be seeing less of these ads, as making a Windows Phone app should be rather par for the course, and not making one would be noteworthy. Lets hope that time arrives sooner rather than later.
via AAWP