Car Scar Gameplay (Windows Phone Game)
Car Scar is a new action strategy game for Windows Phone with an innovative concept, where you use combat discs to attack the enemy car while simultaneously protecting your car. This app won the best game award at Arizona State University's Big App on Campus event, and is one of the 20 semifinalists nationwide in the contest. (You can vote on the entries
here)

When you start a game, you are presented with four red turrets at the bottom of the screen which you can tap to launch a disc, one disc per turret. Each disc has a special power, for example the first level starts with four rocket discs. Each rocket disc shoots heat seeking rockets, one at a time. You get to use the freeze disc in the second level. Play through the game to discover more discs. Once you clear 5 levels, it is time to defeat the grotesque monster that the enemy has invented to attack you.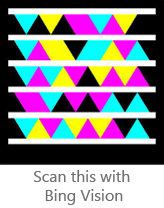 Car Scar has a free trial that does not expire, so get it now. If you want to play beyond the first chapter, or play the fast-paced skirmish mode with discs of your own choice, the full game is only $0.99.
Download car-scar from the official website, from Zune Marketplace, or scan this QR-code now.