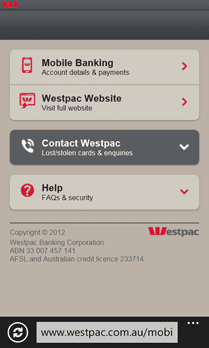 Westpac today announced that customers using the latest Windows Phones will be able to access Westpac Mobile Banking. This will further increase the 1.4+ million customers actively using Westpac's Mobile Banking channels. 
With this latest release Harry Wendt, General Manager, Online & Mobile said: "The explosive growth in mobile banking highlights the need to continue driving innovation in digital to meet our customers' expectations.
Our customers are instrumental in shaping the way they bank with us, Windows Phone banking now puts more customers in control of their finances and provides more choice for our customers when it comes to mobile access."
Windows Phone banking will be available from Saturday 1 September and will allow Westpac customers using a Windows smartphone running operating system versions 7.5 and above to access Mobile Banking.
Customers with a supported Windows Phone smartphone simply type www.westpac.com.au into their phone's browser to access Westpac Mobile Banking.
The development leaves only ANZ as the only major bank without any real Windows Phone support.
Via WPDownunder.com