Its the day after New Year's Day. I have work to do but I'm still tired from last night. So I get up, reach for my headphones and search for a music app to choose to help me work. There are so many choices for music players in the Windows Phone store nowadays. From the decidedly average Xbox Music, to Lumia exclusives like MixRadio to cross- platform apps like Spotify, Rdio and Deezer, there is little chance for another new app to break out unless they bring something different to the table. Audiotica brings something different, but will it suffice? Find out as we put the app through its paces so you can decide if you want it right now.
Design – Audiotica's design is very reminiscent of the old Zune app and the modern Zbox app and that's not a bad thing, The first thing you are presented with when you  open the main app panorama is the standard music app options for  artists, albums and then like. Swiping left will take you to your most played songs, another swipe will take you to the recommendations and then another to the final page which is the top songs view.  On a whole, the app looks good, only marred by the ad bar at the bottom which is as of this moment – irremovable. I've spoken with the developer and confirmed that this would be removable in later updates.
Gallery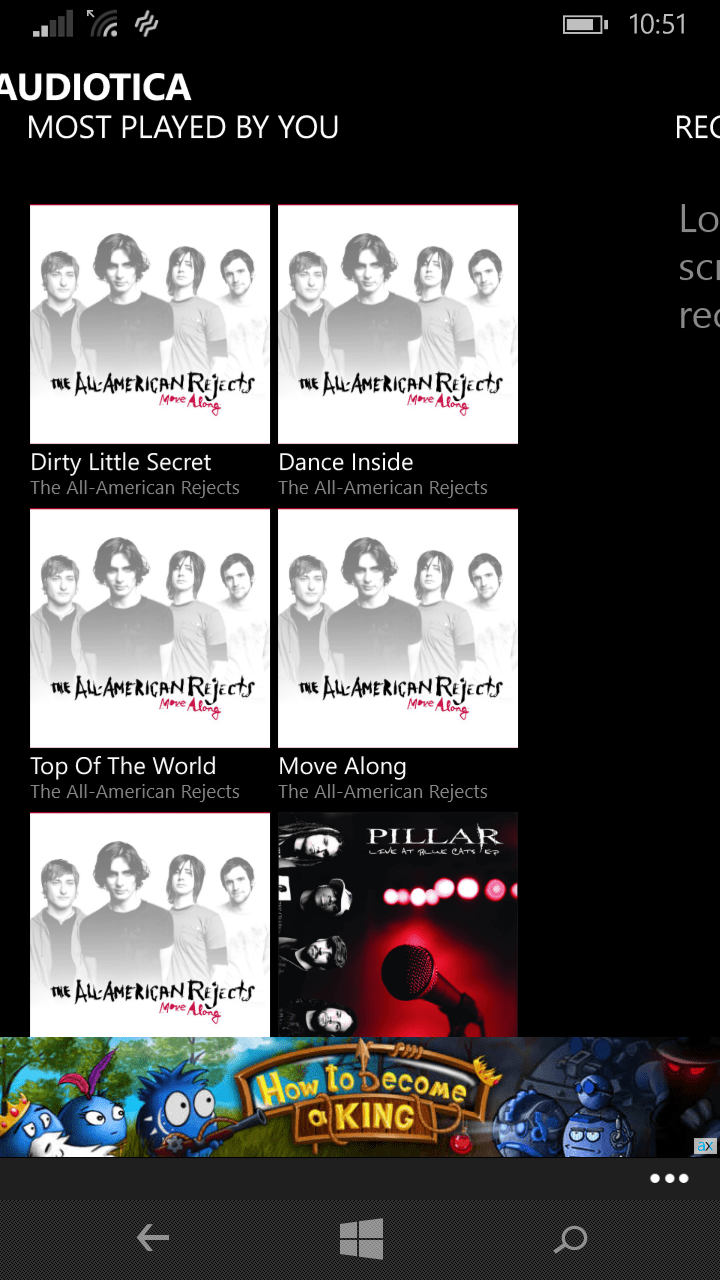 Performance – I tested the app on both a Lumia 625 and a 735. For the most part performance was solid due to it being a Windows Phone 8.1 app  and the developers efficient coding. There were a few moments where resuming screens occurred, but Ill assume the 1.2ghz dual core processor of the 625 was to blame for that. I also ran into crashing issues on the 625 only but again, the developer assures me that that has been fixed with the latest update and I've yet to see any more issues.
Functionality –  Audiotica claims to be able to replace Spotify. That is indeed a tall order, but the app gets close for a free app.  Right now, its great, but there's an issue. If for instance, you opened the app and felt like listening to Justin Bieber for whatever reason, you could type Justin Bieber and get a clean view of all his albums  ready to stream or save in an instant. That's great, but that doesn't kill Spotify. I can download all Justin Bieber songs to the phone. That's great, but it doesn't kill Spotify. Its got a pretty interface, that's great but it still doesn't kill Spotify. So why should you get the app? Why do I think it's great?
Two reasons. The current version has great core functionality down, all for free, The future versions will have even more functionality added on. The dev promises weekly updates, he has delivered two in the past two days.
Here's where it gets exciting, future updates promise to deliver import /export options. That it to say, you can import your music library into the app and play from there or you can export downloaded songs to the main memory and use another app like Zbox or OneMusic to play it. Xbox Music subscribers should not feel left out either as the developer plans to leverage the Xbox Music apis and make music pass files playable. When you add all that together, then yes, Audiotica can very well replace Spotify or Xbox Music.
Gallery
Final thoughts – Audiotica makes the claim of being able to replace Spotify and Xbox Music. As it is right now, it is a decent app with as great design. It doesn't quite reach those two apps but that's alright. With weekly updates planned and a healthy community around it, it just may turn out to be one of the best music players this year.
Download Audiotica for Windows Phone 8.1 here