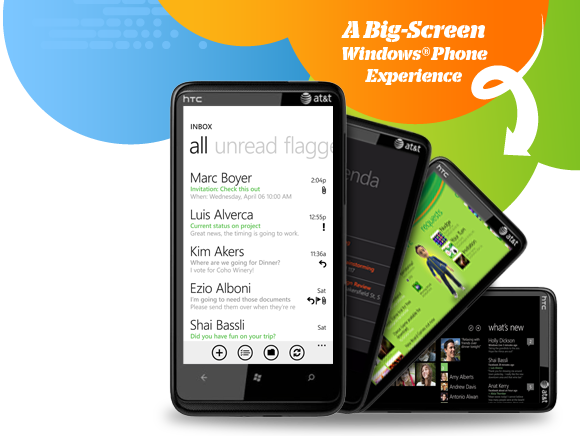 According to Analyst Stephen Patel from Gleacher & Company, AT&T's purchase of T-Mobile USA for $39 billion could benefit the smaller smartphone players such as Windows Phone 7.
"AT&T's agreement with T-Mobile could change US smartphone industry dynamics if the deal is approved," he wrote in a report issued this morning. "The combined entity's greater customer reach (130 million subscribers) and purchasing power could enable a more balanced market share for multiple ecosystems and make it less likely the US evolves into a two-ecosystem only market (Android/iOS). We view this as positive for the number three and number four ecosystems, Blackberry and Windows Phone."
"AT&T has been slower than other carriers to push Android and will want to ensure the viability of more than just the Android/iOS ecosystems," he said. "T-Mobile, on the other hand, was a very early Android supporter and has always carried a variety of Android models. It's possible the T-Mobile subscriber base drives AT&T to carry a broader Android lineup, but we would also expect some SKU rationalization and some reduction in pricing power long-term."
"AT&T was a launch partner for Windows Phone 7 and was also the launch partner for Nokia's Symbian-based X7 before it was cancelled," Patel noted.
Noting that no carrier wants to be turned into a dumb pipe for Google and Apple, he expressed the view that more power in the hands of carriers will likely result in more fragmented smartphone ecosystem market share.
"Carriers have long been concerned about turning into 'dumb pipes' delivering only voice and data traffic and have wanted to retain as much ownership of the customer experience as possible. This has made some carriers wary of a world where only a few suppliers (ie Google/Apple) controlled the market. We think this could benefit the Blackberry (RIM) and Windows Phone ecosystems as AT&T will want to keep healthy checks and balances among suppliers," he said.
"We do not see a near-term impact to smartphone vendors, but think fewer wireless carriers could result in more balanced smartphone ecosystem share longer-term and could be positive for the Blackberry and Windows Phone ecosystems." he said.
Read more at EDN.com here.